Sooner or later, the serious athlete reaches a career checkpoint to stare face-to-face with an ominous fate that suggests that maybe your time is up. Self-doubt whispers that your best days have long been archived. Free yourself from the pain of the disappointing performances and the anguished losses. Stop chasing dreams in the gym and start enjoying ice cream and Netflix again.
It is rare for the athlete to slam the door on that fate, get back onto the road with the rugged terrain, and demand even more from the skills and heart that remain. Because that would require extraordinary mental strength to believe in something that seems to have all but evaporated.
It was a year ago that Marissa Cappello, college pitcher for Stevens Institute of Technology, faced that tough choice at the end of h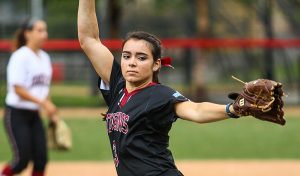 er sophomore season. She was fresh off a heartbreaking loss, on a field she no longer felt worthy of performing.
Thanks to the decision she made that day, Marissa elected to go back to the drawing board, and through sheer will overcame whatever challenge came in her path over the following 12 months to become a dominant force on the mound again, earning co-MVP of her team and All-Conference and All-Regional honors for the 2018 NCAA Division III college softball season.
Marissa finished with an 11-3 W-L record and four shutouts while blowing away her school record for strikeout rate at 8.53 K's per seven innings. Her ERA (1.64), batting average against (.180), slugging average against (.239), winning percentage (78.6%), and strikeout rate, key statistics for quantifying pitching dominance, all ranked second in the conference only to St. John Fisher's Lindsey Thayer, who this season capped off a legendary four-year career by breaking the all-time NCAA Division III record for most strikeouts.
Marissa's season did not even seem feasible 12 months ago, at the site of a tough playoff loss that left her confidence shattered. Her eyes that day told the story. She was broken. She thought very hard about the prospect of quitting. It would end the pain. No more striving for…for what? More disappointment and embarrassment? More than anything Marissa wanted her teammates to be able to trust her, and she felt she had lost that. She battled all year to try and find that piece of greatness she once showed in the circle, only to keep butting up against the wall of erratic mechanics and inconsistency.
Quitting would have been easy. And it's not like majoring in Chemical Engineering couldn't use the extra cycles of her attention. As a parent, I was conflicted between knowing that she still had the skills inside her and the emotions of wanting my daughter happy and free of the pressure and the torment. Let's go get some Ben & Jerry's, watch some Brooklyn 99, and everything will be well.
My wife and I left all doors open for her to decide. Whatever your choice, your mom and I will be behind you 100%. She looked at me with eyes still clouded of tears and the pain of failure and somehow, abruptly, showed a sense of conviction. "I am not done," she said. "I'm going to start from scratch and do this right. I am not ending my career here."
And so starting last June, Marissa started a complete rebuild of her mechanics. She bought in to a method of teaching that has made its way into Division I colleges and Olympic programs nationwide. She committed faithfully to its philosophy, for she knew she would have to live by it for her last two seasons of her softball career, assuming all goes as planned. There was no going back; no more time to unlearn and relearn. She knew she had one more shot. She was all in.
For six weeks into the summer, Marissa didn't throw one full pitch. She was training a new arm swing and delivery, trying to hardwire new linkage between her brain and muscles, overwriting the old firmware with a high-performance version that could be called upon repeatedly. So those first sessions were all about drilling on the pieces that make up the whole, like learning basic piano notes before jumping right into Moonlight Sonata.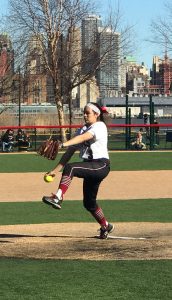 By the time her school's fall season came around, she had barely got into any spin pitches, let alone throw complete innings. That was okay because the fall season is more of a toes-in-the-water mentality. Focused on the big picture, Marissa simply wanted to let her teammates and coaches know that she was back in the saddle and on a good trajectory. She made a brief appearance, but it was effective. No one else really noticed, but it was a mental check box she was able to mark off, and it gave her the confidence that her path was true.
January arrived, and her team was gearing up their winter training and preparations for a spring season that was just weeks away. Marissa was ready to continue her quest, but it quickly became apparent that she had more hurdles to jump then what she bargained for.
A new pitching coach joined the team's new head coach, and together they formulated a plan for getting the pitchers and hitters to adopt the mechanics they believed would maximize their talents. It was a reasonable ambition for the new season. They don't hire college coaches to mow the outfield grass.
Unfortunately, they looked at Marissa's new motion and did not recognize it as something to build on or improve upon. They wanted to change it, like, immediately. Marissa was very uneasy about the prospect of unlearning everything she had been drilling since last June. She was on a mission, after all. She held strong…but so did the coaches. They told her if she didn't comply with their recommended changes to her mechanics, they could not help her and may not be able to depend on her as a starter for the team.
The season started worse. On the team's spring trip to Arizona, Marissa hadn't even pitched two full innings before a fever gripped her for two weeks. Her absence did not do her any favors. When she became healthy, the team informed her that they were going with two other pitchers as their starters. Marissa was out.
This was devastating. As the weeks of the new season went on, Marissa was feeling stronger and more confident in her changes. She still believed in what she was doing. But if her coaches weren't buying in, it wasn't going to matter. She was well into her junior season and she was quickly running out of options. Marissa asked the coach for one more shot at the starting role.
On March 31, the twelfth game of the season, she got it.
Pitching the second game of the season's first conference doubleheader, Marissa didn't waste any time presenting her case. She struck out the first batter she faced. And the second. And the third. In the next inning she collected two more K's sandwiched around a popup. In the third, she mowed down the first two batters on six pitches. The third batter took her to a full count, then went down swinging.
Nine batters up, eight strikeouts and a popup. Marissa Cappello, in her own quiet but forceful way, announced to everyone watching the game that day that she was back.
I made my way behind home plate to where my wife watches the game and keeps score. I could tell she was fighting tears underneath her sunglasses. I also felt similar emotions that hit you when you see your child, after working so hard and being doubted, overcome so much to finally get back to enjoying what she does best. She was smiling on the mound, sharing special moments with teammates. It was a joy to see the game come back to her again.
Marissa struck out 11 batters in that mercy-shortened five-inning contest for a two-hit shutout. It was a statement game. Not only did Stevens get back their starter, they got back an ace.
The Marissa train was just getting out of the station. Over her first five games since being granted one more shot, she pitched four shutouts, winning all five while allowing just one earned run, recording a ridiculous ERA of 0.23, collecting bushels of strikeouts and allowing a miserly five walks.
She would go on to win 11 of the last 12 regular season games she pitched, helping her team gain second seed in the conference playoffs. The only game she lost in that span was an epic battle against eventual conference champion St. John Fisher, where Marissa battled Thayer in a 0-0 game through nine innings. With the tenth inning starting with an International Tiebreaker Rule (ITB) baserunner at second base, Fisher's Sarah Kubik, who would go on to win the conference co-Player of the Year award, snapped a curve ball away over the left-field fence for the 2-0 victory. A disappointing finish, but Marissa matched the best for nine innings.
When Stevens visited Moravian College late in the season, I was honestly thinking maybe this is about the time for a clunker. As Marissa took the mound for the second game of that doubleheader, she was facing a potential Goliath, a team with a 25-game win streak, ranked sixth in the nation, and a balanced lineup half full of .400 hitters. This was not going to be easy.
But in keeping with the theme of her magical season, Marissa held Moravian to zero runs for seven innings. Her team didn't score through regulation either, so the game went extra innings. With the eighth inning starting immediately with an ITB runner at second, Stevens was able to push two runs across the top of the eighth.
The bottom of the eighth was vintage Marissa. Facing Moravian's aggressive 2-3-4 hitters, she struck out the first two, both swinging. With the cleanup hitter stepping to the plate as the tying run, Marissa took her to two strikes, then threw her special screwball to a location over the plate that has earned her countless knee-buckling called strikeouts in her career. With half the team leaning to run in on the strike three call to celebrate the victory, the home plate umpire kept his arm low and didn't say a word. Ball. With second life, the batter took a one-arm poke at a curve ball away, depositing the ball over the first baseman for a hit, voiding the shutout and the epic ending. But Marissa regrouped and got the next girl to ground out. She had tamed a mighty beast.
But if the Moravian game proved anything, it was that Marissa was now the beast. Through all the sweat, the drills, the challenges, the doubters–this was who she had become. 
When she is on her game, Marissa brings an electricity to the mound that is fun to watch. She is all business in the circle. You won't hear any grunts or primal screams. You won't see any fist pumps. But make no mistake each pitch is packed with energy and grit. You've got this girl, who at 5'5" is on the short side for most successful fastpitch softball pitchers, coming at you with four effective hard pitches that she attacks the zone with from all different directions, in seemingly random order. Trying to barrel up on one of Marissa's pitches can at times be like trying to split a hair with a samurai sword.
After Marissa finished the regular season with a 13 K, 3-hitter against a decent Susquehanna squad, one of her teammates slipped her the game ball as a sign of how much her performances meant to the team.
This was the moment she had worked so hard for. She can finally say with confidence that her teammates can trust in her again.
***
The Tincher Method, created by Denny Tincher, is the program Marissa adopted and leaned on this past year to help pull out her talents. Denny is very knowledgeable about the mechanics of the fastpitch motion. Special thanks goes out to him for being available throughout the process as Marissa encountered the challenges throughout her comeback trail.