In this winter of two-foot snowstorms, I was definitely looking forward to some hot stove baseball chatter at SABR's local Connie Mack chapter meeting in Philadelphia. But, man, did I underestimate the lineup of guest speakers.
SABR members love to dig into the nuances of the game with their fellow researchers and learn something new, whether in a historical or statistical sense. It's all about feeding the ravenous seamhead inside you, if you've got such a beast.
To outsiders, well, let's just say breaking down the sabermetric value of baseball numbers isn't exactly Cirque Du Soleil for some people. But this particular gathering was memorable, thanks to the presence of Phillies public address announcer Dan Baker and major league umpire Phil Cuzzi.
There was a time about three decades back when Philadelphia had the greatest collection of play-by-play announcers at any one time. Harry Kalas. Gene Hart. Merrill Reese. Bill Campbell. If these artists of the microphone were singers, each would have earned a Grammy for lifetime achievement. Lurking in the background of these greats has been dynamic Dan Baker, whose unsung voice has been heard over the loudspeakers at Phillies home games for the past 38 seasons. With Harry gone, Baker is the only common denominator left with Phillies baseball in all the years I've been following the team since the early '70s. So it was awesome to sit a few rows back from the man as he spoke to the local SABR crowd.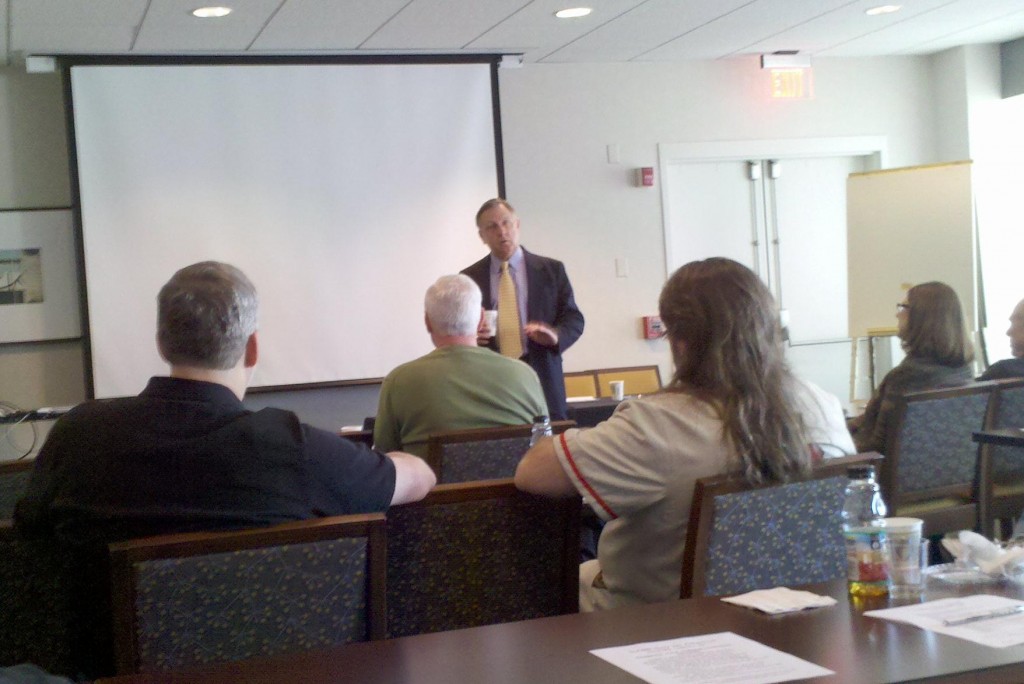 Baker told us chunks of his life story, how he got the Phillies PA job, and who his inspirations were. It wasn't too surprising to learn that he used to mimic the great Sixers PA announcer Dave Zinkoff.
His anecdotes constantly put us behind the scenes of some of his more intriguing moments. There was the time Von Hayes, recently named the manager of the Camden Riversharks of the Atlantic League, came up behind Baker in the clubhouse tunnel yapping "That's bulls***!" because he had a problem with how Baker was introducing his name. (That's funny, I remember making the same remark in '86 when Hayes turned a few triples into doubles to secure his league lead in that department.)
Von wasn't a fan of the way Baker seemed to pump up his name after hitting a home run, then use a gloomy tone after he struck out. Baker explained to Hayes that it was "the moment" that dictated his enthusiasm, not anything the player did. If it was the late innings of a tie game, it didn't matter what the batter did previously—Baker was going to turn up the dial to get the crowd to rally behind the team. On the other hand, in a 15 to 4 rout going into the ninth, Baker was going to keep things on the low down, even if the player hit like Ted Williams. Hayes' reaction to Baker's explanation?
"That's bulls***!"
Wow, and you thought sportswriters knew how to get beneath the skin of athletes. Apparently, PA announcing is a little more than just background noise. Rob Ducey wasn't feeling the love from Baker when he griped that his intro reflected his back-up status—too humdrum. ESPN once accused Baker of trying to incite the crowd with his J.D. Drew introduction the first time Drew appeared as a visitor after dissing the Phils in the '97 draft.
Even Dallas Green gave Baker some heat. "Stop the Rolen [crap], will ya," Green growled to Baker at a time when Scott Rolen was allegedly bad-mouthing the organization behind closed doors. Green wasn't too happy to hear his PA man sprinkle audio confetti for his rebellious star who was in the midst of campaigning his way out of town.
Of course, it's rarely written how Baker sets the tone, both figuratively and literally, for getting the crowd roaring with anticipation of a great ballpark moment, such as a walk-off knock opportunity. I can still hear his shrilling "Jimmyyyy Rollinssss" just before J-Roll heroically stroked a Jonathan Broxton heater into the gap to win game 4 of last year's NLCS.
The cool part about Baker's presentation was the way he gave a fist pump whenever he slid into a familiar, goose bumps-inspiring intro, showing us how much his emotions factor in what he does. Despite not actually being at Citizens Bank Park, I felt that special adrenaline (you Phillie fans know what I mean) each time that famous voice of his boomed out from that smallish frame.
Aside from his general PA duties, Baker was proud of his fast and accurate work updating the scoreboard's balls, strikes, and outs—though he hasn't done this since the Phils called Veterans Stadium home. It reminded me of when I was a kid sitting in the Vet, racing my eyes to the scoreboard after the pitch to try and beat the changing numbers. It was hard. Well, no wonder…Dan Baker was racing me!
The guy sure loves to talk. I found that out first hand. During the Q&A, I raised my hand and told him I had a comment followed by a question. My comment was that although Harry Kalas was the #1 target of impressions for my friends and me growing up, Dan Baker was a very close second. Baker acted very modest in being mentioned in the same breath as Harry the Legend, and he joked of pulling money from his pocket to hand me for saying those words. He then followed up with, "You know, that reminds me…" and went on with another 40 minutes of Phillie treasures, starting with how he felt about Kalas. He never got to my question, or anyone else's. But everyone was definitely okay with that because he was bringing back great memories.
I already knew of Baker's generosity because of the way he handled a letter from a good friend of mine Czj (pronounced "Sij"), who wrote Baker about his dream of one day announcing the line-ups for a Phillies game. Czj does an incredible Dan Baker voice, especially with some of those off-the-wall Phillie names like Kevin Sefcik. (He is also one of the early pioneers of wearing wrist bands in Little League.) Four months after sending the letter, Czj found himself at Citizens Bank Park with his son Darren getting a personal tour from the man himself, Dan Baker, immediately after a Phillies night game. The courtesy Baker showed Czj and his son made it a once-in-a-lifetime event.
Not to minimize the honor and excitement of having Dan Baker in the house, it was our guest speaker for the afternoon who brought the house down. When I saw that major league umpire Phil Cuzzi was on the docket for the day's meeting, I was like, okay, cool, I'm sure he has some interesting stories to tell from the front lines of major league baseball.
Surprise, surprise. Cuzzi was awesome. Aside from his fascinating viewpoint of the game, he told the most unlikely story of how he made it to the major leagues at an age when most ballplayers had already retired. It was entertaining, and at times, hilarious.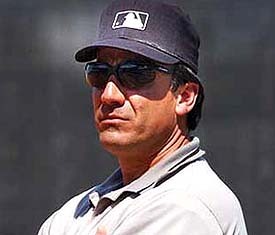 Cuzzi's story should be published. An entire chapter could be dedicated to the freak encounter he had with National League president Len Coleman. The unlikely scenario involved Cuzzi working as a bellhop at a hotel casino with a hand-written letter asking baseball for another chance, while Coleman—the man who controlled his fate—splashed around in his hotel room bathtub. I'll leave the rest of the details for his book, although when I told him about the book idea, he gave me a kind of "I'm flattered, but I just don't have the time right now" reaction.
Unless you hadn't connected the dots, Cuzzi was the ump who infamously botched that call out in left field on a Joe Mauer double-turned-foul during last year's ALDS between the Yanks and Twins. He admitted that it was the lowest point of his life, leaving him sleepless for quite a while. Not that he showed up at the SABR meeting looking ragged and worn. In fact, for his 54 years of age, he looked great. Unfortunately, if you google him, you're going to have to weed through a ton of pics of Melky Cabrera extending his glove near the left-field foul line—the moment that cemented Phil Cuzzi's place among the worst umpire calls in playoff history.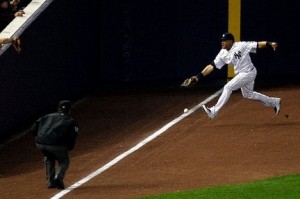 Write that book, Phil.
We now return to our regularly scheduled snow storm. Phillies pitchers and catchers report February 17th.